3-DAY ERG CHEGAGA DESERT TOUR FROM MARRAKECH: PRIVATE TOUR
You would be able to ride a camel and spend the night under the Moroccan Sahara desert sky. This excursion is great for those with three days to explore the desert, Erg Chegaga, and the Draa Valley.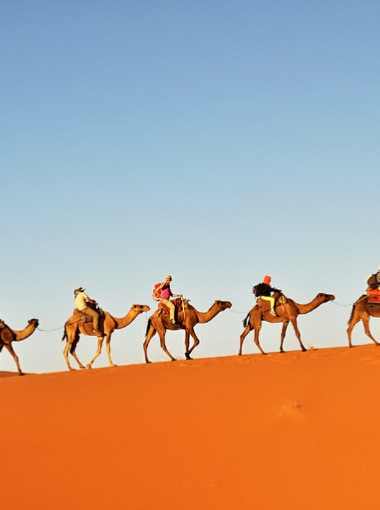 3-DAY ERG CHEGAGA DESERT TOUR FROM MARRAKECH
Price Quote

Private Tour: with A/C vehicle.
Accommodation: Chegaga camp.
Driver / Guide: English / French.






MARRAKECH TOUR HIGHLIGHTS

Explore Ait Benhaddou Kasbah.
Visit Ouarzazate film studios.
Night in Sahara desert camp.
Travel through Atlas mountains.





Special requirements: Tell us.
Travel with children: Available.





TRAVEL ITINERARY FOR 3-DAY ERG CHEGAGA DUNES TOUR FROM MARRAKECH:
DAY 1: MARRAKECH - AIT BENHADDOU - OUARZAZATE - DRAA VALLEY - ZAGORA
This tour departs Marrakech every day and includes private transportation arranged by Private Marrakech Trips. We embark from Marrakech, Morocco's most important old imperial city. It is situated on the foothills of the Atlas Mountains, which we will travel for hours and miles over, taking in the intriguing presence of remarkable and scattered Berber communities. We will drive almost halfway through the Unesco World Heritage Site of Ait Ben Hadou Kasbah, an 11th century fortified village. We will travel 35 kilometers from Ait Ben Hadou Kasbah to Ouarzazate, Africa's Hollywood, to view the most important filming studios. The journey will take you through Kingdoom's longest valley (1052 km) and greatest palm tree oasis. When you get at Zagora, you can still see the remnants of an Almoravid fortress. We stayed at our hotel and ate supper there.
DAY 2: ZAGORA - TAMGROUT - MHAMID - ERG CHEGAGA DESERT
After breakfast, you will go to one of Morocco's largest deserts, the Erg Chegaga dunes, passing through many more communities, including Tamgrout, where you will see the ancient and famous Koranic Library, which was formerly a prominent location for acquiring Koranic and Islamic instruction. Driving through the Draa valley to Mhamid, the last and final village before the desert of Erg Chegaga, where your experience of sleeping inside the vast sand dunes in tents begins with a sunset ride on camels. Dinner and accommodation in Erg Chegaga's tented camp.
DAY 3: FROM ERG CHIGAGA DUNES M'HAMID TO MARRAKECH
You should get up early if you want to see the sunrise over the Sahara Dunes, then we will resume our trip to Marrakech, our final destination, and we will stop on Lake Iriqui for pictures, then we will continue passing the old track of "Rally Paris Dakar" to Foum Zguid, the first village after the desert where the road begins, after lunch continue Marrakech city crossing Ouarzazate, and if we have enough time we can visit the Berber village called Taznakt. Tour ends in Marrakech.
INFO:
We provide tailor-made trips from Marrakech to the Sahara desert, which include camel rides with local guides. We may customize this journey to meet your unique needs, budget, and travel objectives.
Contact us
INCLUSIONS / EXCLUSIONS / TRAVEL MAP FOR 3-DAY ERG CHEGAGA DUNES TOUR FROM MARRAKECH

Experienced driver/guide, private travel in A/C car.
Pick-up and drop-off at your hotel.
Camel ride to Sahara desert camp.
Breakfast and dinner are provided.
Free time to see the sights, breaks for photos.
Customized/adaptable stops during the tour.


Lunches , Drinks, Personal expenses, Entrance fees, Airline tickets to and from Morocco, Tips.


Let us know how many people will be going with you, your approximate tour dates, type of accommodation you require (standard/luxury). We respond with a pricing quotation asap.


TOP PHOTOS FOR GUIDED 3-DAY ERG CHEGAGA DUNES TOUR FROM MARRAKECH: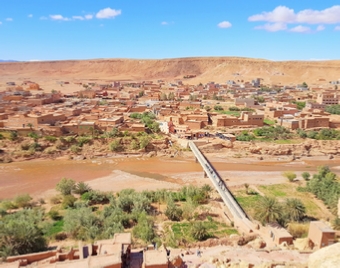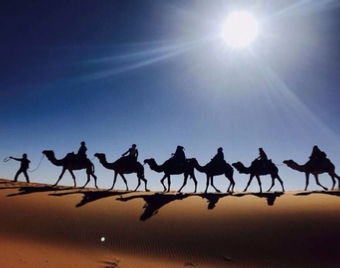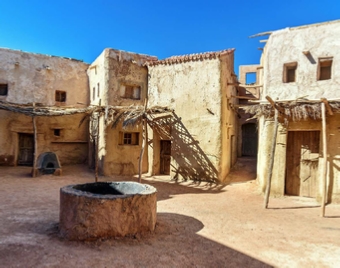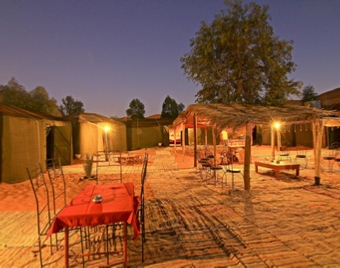 RESERVATION FOR 3-DAY ERG CHEGAGA DESERT TOUR FROM MARRAKECH
PRIVATE 1 DAY TRIPS FROM MARRAKECH
MARRAKECH ACTIVITIES & PRIVATE TRANSFERS
We create a personalized Morocco Tour itinerary depending on your interests and desires. After getting our first draft of the itinerary, you are free to make changes to your budget, tour itinerary, hotel, and timetable — we are flexible! You can travel as a couple or in a small group of family, friends, or coworkers. Our staff of expert Morocco local tour guides will manage your private tour and ensure that all travel arrangements go as planned.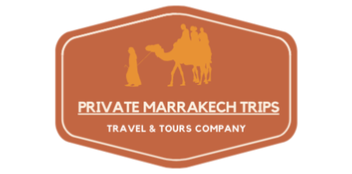 Email: contact@privatemarrakechtrips.com
WhatsApp: +212 661 24 07 10
Address: Hay El Bahja Nr 637, Marrakech
Contact us



Marrakech Tours
Marrakech Day Trips
Private Transfers
Medina Transfers Marrakech 24/7
Day Trip To Casablanca and Rabat
Explore Morocco with your own private English-speaking guide, who is eager to show you around his country. Don't waste time studying the top spots to visit in Morocco. Allow our travel specialists to inspire you! We offer comfortable private Marrakech transfers.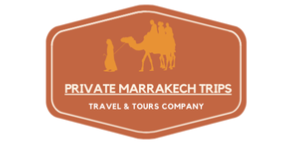 Phone / WhatsApp: +212 661 24 07 10

Email: contact@privatemarrakechtrips.com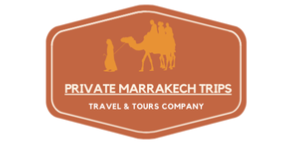 SAHARA DESERT TOURS FROM MARRAKECH IN 2023
How to make the most of your time in Morocco? From Marrakech, take a guided sightseeing tour, activity, or outdoor adventure. Make the most of your stay by following the advice of a knowledgeable local guide.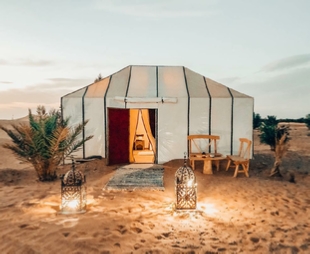 2-DAY TOUR TO ZAGORA DESERT DEPARTURE MARRAKECH
Tour Departure: Marrakech / Transfers: Private
Duration: 2 Days / Camel Ride: Yes



Overnights: riad, hotel, Desert camp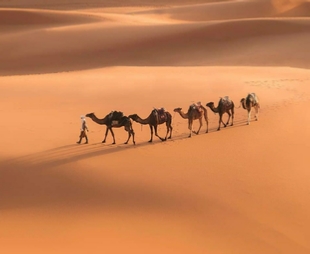 3-DAY TOUR TO MERZOUGA DESERT DEPARTURE MARRAKECH
Tour Departure: Marrakech / Transfers: Private
Duration: 3 Days / Camel Ride: Yes



Overnights: riad, hotel, Desert camp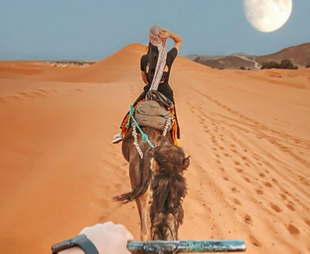 3-DAY TOUR TO ERG CHEGAGA DESERT DEPARTURE MARRAKECH
Tour Departure: Marrakech / Transfers: Private
Duration: 3 Days / Camel Ride: Yes



Overnights: riad, hotel, Desert camp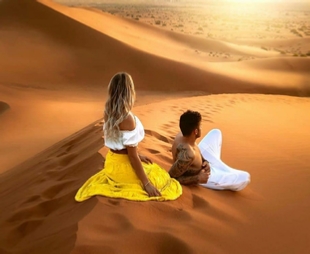 4-DAY TOUR TO CHEGAGA DESERT DEPARTURE MARRAKECH
Tour Departure: Marrakech / Transfers: Private
Duration: 4 Days / Camel Ride: Yes



Overnights: riad, hotel, Desert camp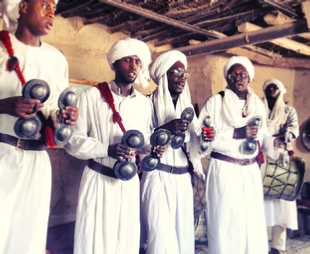 4-DAY MOROCCO TOUR TO MERZOUGA DESERT
Tour Departure: Marrakech / Transfers: Private
Duration: 4 Days / Camel Ride: Yes

Overnights: riad, hotel, Desert camp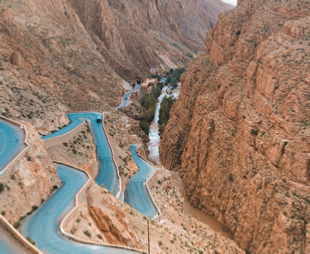 5-DAY SOUTH MOROCCO DESERT TOUR DEPARTURE MARRAKECH
Tour Departure: Marrakech / Transfers: Private
Duration: 5 Days / Camel Ride: Yes





Overnights: riad, hotel, Desert camp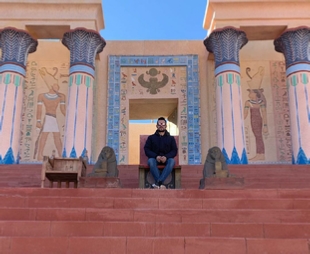 6-DAY MOROCCO KASBAH TOUR DEPARTURE MARRAKECH
Tour Departure: Marrakech / Transfers: Private
Duration: 6 Days / Camel Ride: Yes

Overnights: riad, hotel, Desert camp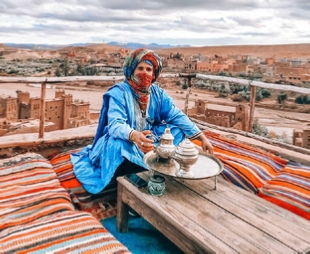 7-DAY MOROCCO BERBER TOUR DEPARTURE MARRAKECH
Tour Departure: Marrakech / Transfers: Private
Duration: 7 Days / Camel Ride: Yes